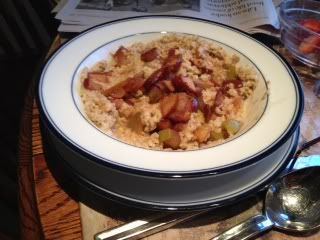 I love eating oatmeal in the morning. It's the only thing that keeps me from being starving all morning.
My friend Kristin recommended this recipe from http://www.alwaysorderdessert.com/ and decided to give it a try. I doubled the recipe and it turned out great.
Here is the recipe
Apple Pie Oatmeal
Serves 2-3
Ingredients
For the apple pie filling
2 large tart apples (such as honeycrisp, granny smith, etc.)
2 tablespoons butter
1 tablespoon brown sugar
2 tablespoons maple syrup (substitute honey or just use another 2 tablespoons brown sugar)
1/4 teaspoon ground cinnamon
Pinch ground nutmeg
1 tablespoon lemon juice
1/4 cup apple cider, juice, or water
For the oatmeal
1 1/2 cups water
1/2 cup whole milk (substitute almond milk or just use all water for dairy-free)
1 cup rolled old fashioned oats (not instant)
1/2 teaspoon kosher salt
Directions
Core the apples and dice into small 1/2 inch cubes (no need to peel). Combine in a skillet over medium heat with butter, brown sugar, cinnamon, nutmeg, lemon, and apple cider or water. Stir until sugar is dissolved and let cook for about 5-10 minutes or until all the apples are soft and tender and the liquid has thickened. Taste and add more cinnamon or nutmeg, if desired. Set aside. (This portion can be made in advance and stored in an air-tight container or glass jar in the refrigerator for at least 2 weeks.)
Combine the water, whole milk, salt, and oats, and bring to a boil. Lower heat and let simmer for 3 to 5 minutes, or until the oats are tender and the liquid has thickened. Stir in half the apple filling until fully hot. Remove from heat and serve with additional filling on top.
Personally I make my oatmeal in the microwave and just added the apples in. The filling part can also be served on yogurt with granola. I put in less butter, and I also recommend putting less sugar and maple syrup as it's a bit too sweet